Liquid Animation welcomes Executive Producer Georgie Uppington to focus on Business Development for their Commercials division
Liquid Animation are committed to attracting Agencies here and abroad to produce animated commercials at their sizable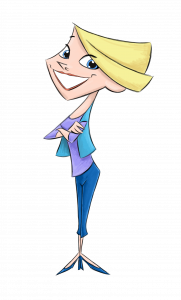 studio by appointing Georgie Uppington as their EP focusing on Business Development in Australia and the United States. 'We are happy to have found someone with Georgie's caliber and experience. She's worked on large and complicated campaigns, which brings another dimension and understanding to the work we do here at LA' says Geoff Viner, Executive Producer and part owner of Liquid Animation, who will partner with Uppington and focus on Business Development in Asia for commercials.
'Liquid have a large, energetic team in Brisbane which allows them to execute complicated work with the greatest of ease and an impressive turnaround.    One of the things that attracted me to Liquid is their four, diverse, talented, in-house Directors, who all have a great sense of design with strengths across 3d/2d animation and graphics' says Georgie.
Having spent the better part of a decade with Animal Logic in Sydney working on their animated feature films and leading their Commercials and Short Form team, Georgie embarked on a short hiatus at The Mill in New York so it was a natural fit to have her focus on animated commercial work in Australia and the US for Liquid Animation.
'I'm excited to have joined Liquid as their character design and development is some of the best I've seen. Their dedication to producing and developing entertaining content as well as high-end animation is impressive.  I look forward to sharing these talents with the local and overseas markets'.
**Original design/caricature of Georgie created by Peter Ryan of Liquid Animation.